Wind-Vest.com Terms and Conditions
TERMS AND CONDITIONS OF USE
Welcome to our online store. We are pleased to provide you with the goods and services described in this site subject to the following conditions. If you visit or shop at this site, you accept these conditions. Please read them carefully. In addition, when you use any current or future options on this site, you also will be subject to the guidelines and conditions applicable to such service or business.

PRIVACY AND ELECTRONIC COMMUNICATION
To understand our practices, please review our Privacy Notice, which also governs your visit to this site. When you visit this site or send e-mails to us, you are communicating with us electronically. You consent to receive communications from us electronically. We will communicate with you by e-mail or by posting notices on this site. You agree that all agreements, notices, disclosures and other communications that we provide to you electronically satisfy any legal requirement that such communications be in writing.

LICENSE AND SITE ACCESS
We grant you a limited license to access and make personal use of this site and not to download (other than page caching) or modify it, or any portion of it, except with our express written consent. This license does not include any resale or commercial use of this site or its contents; any collection and use of any product listings, descriptions, or prices; any derivative use of this site or its contents; any downloading or copying of account information for the benefit of another merchant; or any use of data mining, robots, or similar data gathering and extraction tools. This site or any portion of this site may not be reproduced, duplicated, copied, sold, resold, visited, or otherwise exploited for any commercial purpose without our express written consent. You may not frame or utilize framing techniques to enclose any our trademarks, logos, or other proprietary information (including images, text, page layout, or form) without express written consent. You may not use any meta tags or any other "hidden text" utilizing our name or trademarks without our the express written consent. Any unauthorized use terminates the permission or license granted by us. You are granted a limited, revocable, and nonexclusive right to create a hyperlink to the home page of this site so long as the link does not portray us, our dealers, or our products products or services in a false, misleading, derogatory, or otherwise offensive matter. You may not use any of our logos or other proprietary graphic or trademark as part of the link our without express written permission.


RISK OF LOSS
All items purchased from this site are made pursuant to a shipment contract. This means that the risk of loss and title for such items pass to you upon our delivery to the carrier.

PRODUCT DESCRIPTIONS
We attempt to be as accurate as possible. However, we do not warrant that product descriptions or other content of this site is accurate, complete, reliable, current, or error-free. If a product offered by us is not as described, your sole remedy is to return it in unused condition.

PRICING
With respect to items sold by us, we cannot confirm the price of an item until you order; however, we do NOT charge your credit card until after your order has entered the shipping process. Despite our best efforts, a small number of the items on our site may be mispriced. If we discover a mispricing, we will do one of the following:

If an item's correct price is lower than our stated price, we will charge the lower amount and ship you the item.
If an item's correct price is higher than our stated price, we will, at our discretion, either contact you for instructions before shipping or cancel your order and notify you of such cancellation.
Please note that this policy applies only to products sold and shipped by us and/or our dealers.

RETURNS
You may return most new, unopened items which were not special orders within 10 days of delivery for a refund less shipping cost and restocking fee. Items should be returned in their original packaging. We'll pay the return shipping costs if the return is a result of our error (you received an incorrect item.). All returns will be subject to a 20% restocking fee. Special order items may be returned at our discretion. We will not accept returns on merchandise that was opened, used, is missing the serial number or UPC, or returned more then 10 days after delivery. If you would like to make a return or exchange, you must contact us by phone or email and receive an RMA number before returning your items. Items returned to us without notification will not be eligible for a refund or exchange.

DISCLAIMER OF WARRANTIES AND LIMITATION OF LIABILITY
THIS SITE IS PROVIDED ON AN "AS IS" AND "AS AVAILABLE" BASIS. NEITHER WE NOR OUR DEALERS MAKES ANY REPRESENTATIONS OR WARRANTIES OF ANY KIND, EXPRESS OR IMPLIED, AS TO THE OPERATION OF THIS SITE OR THE INFORMATION, CONTENT, MATERIALS, OR PRODUCTS INCLUDED ON THIS SITE. YOU EXPRESSLY AGREE THAT YOUR USE OF THIS SITE IS AT YOUR SOLE RISK. TO THE FULL EXTENT PERMISSIBLE BY APPLICABLE LAW, WE AND OUR DEALERS DISCLAIM ALL WARRANTIES, EXPRESS OR IMPLIED, INCLUDING, BUT NOT LIMITED TO, IMPLIED WARRANTIES OF MERCHANTABILITY AND FITNESS FOR A PARTICULAR PURPOSE. WE DO NOT WARRANT THAT THIS SITE, ITS SERVERS, OR E-MAIL SENT FROM US, OUR DEALERS OR AFFILIATES FREE OF VIRUSES OR OTHER HARMFUL COMPONENTS. WE, OUR DEALERS AND AFFILIATES WILL NOT BE LIABLE FOR ANY DAMAGES OF ANY KIND ARISING FROM THE USE OF THIS SITE, INCLUDING, BUT NOT LIMITED TO DIRECT, INDIRECT, INCIDENTAL, PUNITIVE, AND CONSEQUENTIAL DAMAGES. CERTAIN STATE LAWS DO NOT ALLOW LIMITATIONS ON IMPLIED WARRANTIES OR THE EXCLUSION OR LIMITATION OF CERTAIN DAMAGES. IF THESE LAWS APPLY TO YOU, SOME OR ALL OF THE ABOVE DISCLAIMERS, EXCLUSIONS, OR LIMITATIONS MAY NOT APPLY TO YOU, AND YOU MIGHT HAVE ADDITIONAL RIGHTS.

SITE POLICIES, MODIFICATION, AND SEVERABILITY
Please review our other policies posted on this site. We reserve the right to make changes to our site, policies, and these Conditions of Use at any time. If any of these conditions shall be deemed invalid, void, or for any reason unenforceable, that condition shall be deemed severable and shall not affect the validity and enforceability of any remaining condition.

Color windshields add style to your motorcycle!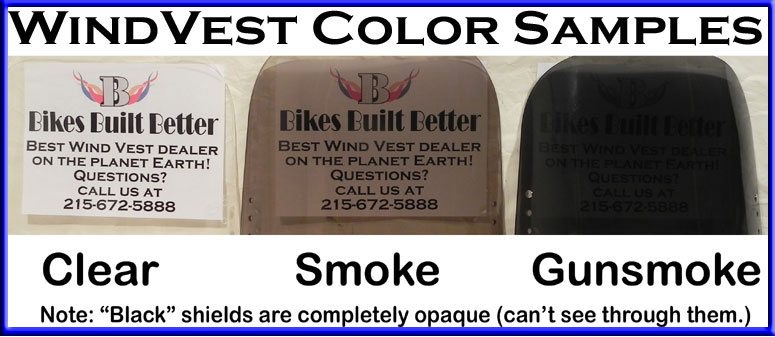 Color selection is a matter of personal taste. If you want the shield to practically disappear, go with clear. Many people like the way their WindVest looks so they choose Smoke or Gunsmoke to complement the color of their motorcycle.
Hardware Options available on many WindVest models Chrome or Satin Black.
All color options for your model motorcycle and size selected will be shown in "Select Options".
A WindVest windshield will provide the same protection as a "regular" motorcycle windshield that's several inches taller.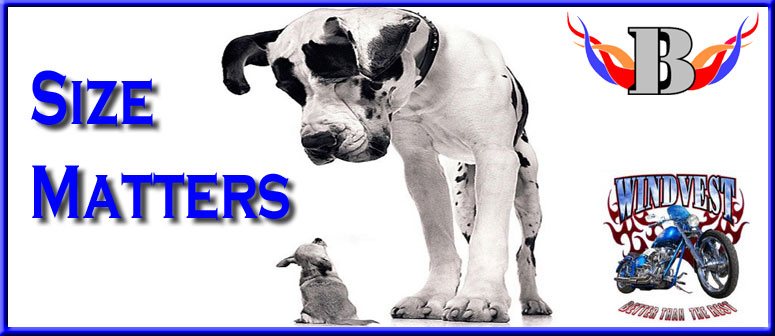 Our Wind Vest windshields for cruiser type motorcycles are available from 10" to 18" tall. Our most popular sizes are the 14"tall X 14"wide and the 16" tall X 14" wide. WindVest's revolutionary extra thick 5mm hand-molded acrylic windscreen design with flat front surface, 2" side contours and recurved top edge creates a low pressure zone diverting the wind away from the rider's chest and head. A WindVest windshield will provide the same protection as a "regular" motorcycle windshield that's several inches taller.
For cruiser style models (i.e. Dyna, Softail, Suzuki, Honda etc.)...if you are 6' tall or over you would probably want the 16" tall Wind Vest unless you sit extremely low in the saddle.
For all touring models (i.e. Bagger Electra Glide, Road Glide, Cross Country, Vaquero etc.) see our size recommendation charts as well as measuring instructions.
All Size Options for your make and model motorcycle will be shown in "Select Options".
Select Your Make and Model Motorcycle For Wind Vest Styles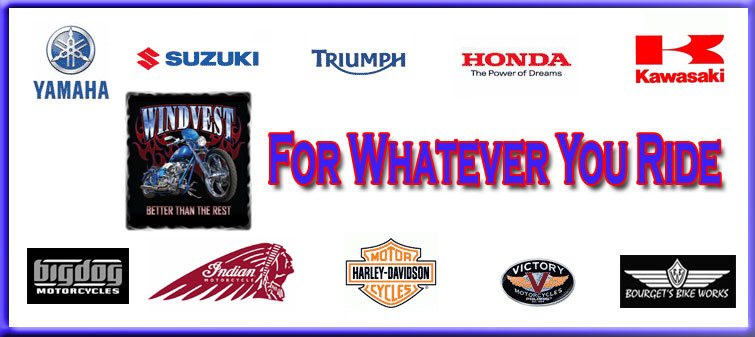 Navigate to your make and model motorcycle. Be sure to look through all the options in your category as similar model motorcycles will use different Wind-Vest mounts. (i.e. Harley Davidson Softail Deuce uses a different windshield mount than the Harley Davidson Screaming Eagle Deuce, Honda Shadow Ace and Honda Shadow Spirit are different.)
All Wind Vests listed on this site for instant checkout are for stock motorcycles. If you have custom handlebars or risers have added accessories such as Tach speakers GPS or the like Please contact us and we will be happy to help you get the wind-vest that will work best for your motorcycle.
For custom or modified motorcycles use our Custom Bikes Page to tell us about your accessories and send us to photos of your motorcycle (front view and side view and be sure to tell us your handlebar thickness (1", 1 1/4" or 1 1/2") sorry we do not have 7/8" mounts but some rides have made shims to mount 1" clamps to 7/8" handlebars.