Contact Us For WindVest Support
Information About Ordering
At Bikes Built better, we pride ourselves on customer service. We've dedicated ourselves to make you completely satisfied with your WindVest. Just send us a message and we will do the best to answer your questions or field your comments.
Besure to Check our FAQ page for Wind Vest specific questions and answers
CLICK HERE
Or if you would like, just give us a call at 215-672-5888
ORDERING
Use the easy shopping cart feature of this site. Payments are processed by PayPal.com, which is secure for you and for us. If you prefer, call us or use the form here with the part number and description of the parts you require. Include information on make, model, and year of the motorcycle for which the parts are intended. See chart below for shipping charges.

ONLINE ORDERING
Select Buy Now or Add to Cart in the product section for complete information on how to complete your purchase using PayPal. Note that some orders may be subject to additional shipping charges; see chart below.

INTERNATIONAL ORDERS
We ship worldwide via USPS and we welcome Paypal orders from outside the United States. Payment must be made in advance.
All shipping charges must be prepaid, WE DO NOT SHIP FREIGHT COLLECT.
SHIPPING CHARGES will be as follows:
USA Lower 48 states, orders over $200.00 FREE
USA Lower 48 states, orders under $200.00 $10.00
Canada, Alaska, Hawaii, Puerto Rico and All other countries, Shipping calculated at check out.
TERMS AND CONDITIONS
All orders will be shipped UPS Ground.
Requests for special delivery (next day, 2nd day, etc) will be shipped at an additional charge to the customer.
All prices are subject to change without notice.
Back Orders
All back orders will be held for 30 days. You will be notified by phone or email if an item is out of stock it is your responsibility to cancel by phone or letter any back orders you do not wish held. Title of all merchandise shipped passes to customer upon our delivery to a common carrier. All claims for damage or loss are to be made by the customer to the freight carrier.
Warranty
Bikes Built Better or WindVest will not be held responsible for incidental or consequential damages arising from or in connection with the uses of any products sold by WindVest. Our guarantee is limited to replacement or repair of defective parts up to 90 days from date of purchase. This warranty does not cover damage caused by misuse, alteration or negligence. Please note that Wind Vests are not designed to be looked through. We will not consider "distortion" when looking through a Wind Vest to be grounds for a warranty claim.
Returns
All claims must be made within 10 days of delivery date and must have verbal or written authorization from us.

Windshield and all component parts must be in new condition and packed in original packaging. If the windshield has been installed, it cannot be returned. If the windshield cannot be sold as new when it is returned to us, we will not issue any refunds. If the packaging is damaged, we will not issue a refund.

A 20% return fee will be charged unless the return is a result of defective merchandise or an error on our part.
Customer is also responsible for cost of return shipping unless it's a case where we shipped the wrong thing or a defective part. No packages will be accepted for return if shipped C.O.D.
BIKES BUILT BETTER CHARGES A 20% RESTOCK FEE ON RETURNS
Color windshields add style to your motorcycle!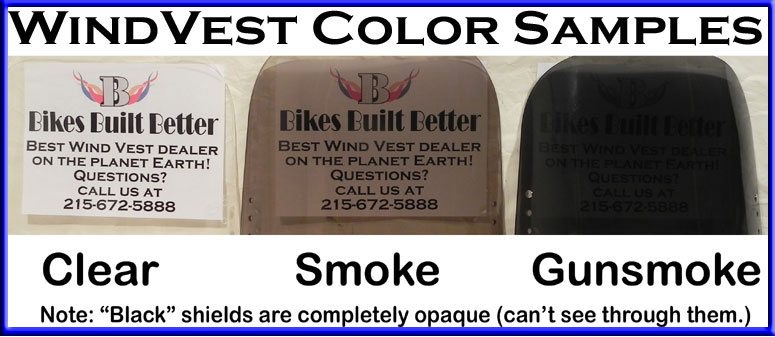 Color selection is a matter of personal taste. If you want the shield to practically disappear, go with clear. Many people like the way their WindVest looks so they choose Smoke or Gunsmoke to complement the color of their motorcycle.
Hardware Options available on many WindVest models Chrome or Satin Black.
All color options for your model motorcycle and size selected will be shown in "Select Options".
A WindVest windshield will provide the same protection as a "regular" motorcycle windshield that's several inches taller.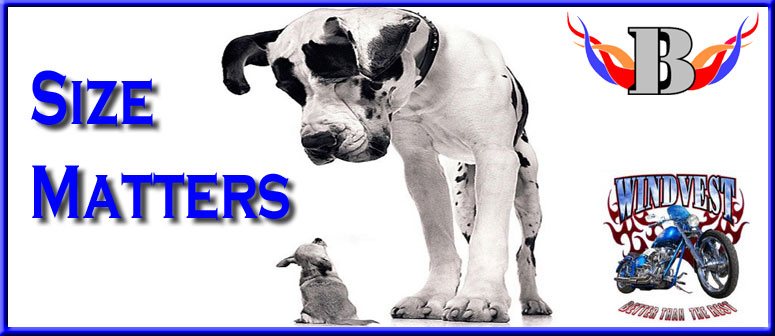 Our Wind Vest windshields for cruiser type motorcycles are available from 10" to 18" tall. Our most popular sizes are the 14"tall X 14"wide and the 16" tall X 14" wide. WindVest's revolutionary extra thick 5mm hand-molded acrylic windscreen design with flat front surface, 2" side contours and recurved top edge creates a low pressure zone diverting the wind away from the rider's chest and head. A WindVest windshield will provide the same protection as a "regular" motorcycle windshield that's several inches taller.
For cruiser style models (i.e. Dyna, Softail, Suzuki, Honda etc.)...if you are 6' tall or over you would probably want the 16" tall Wind Vest unless you sit extremely low in the saddle.
For all touring models (i.e. Bagger Electra Glide, Road Glide, Cross Country, Vaquero etc.) see our size recommendation charts as well as measuring instructions.
All Size Options for your make and model motorcycle will be shown in "Select Options".
Select Your Make and Model Motorcycle For Wind Vest Styles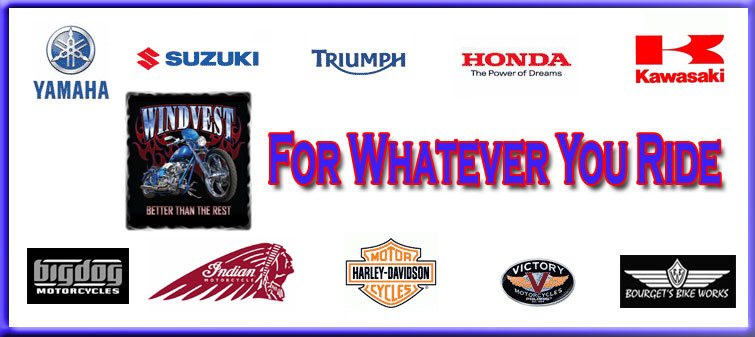 Navigate to your make and model motorcycle. Be sure to look through all the options in your category as similar model motorcycles will use different Wind-Vest mounts. (i.e. Harley Davidson Softail Deuce uses a different windshield mount than the Harley Davidson Screaming Eagle Deuce, Honda Shadow Ace and Honda Shadow Spirit are different.)
All Wind Vests listed on this site for instant checkout are for stock motorcycles. If you have custom handlebars or risers have added accessories such as Tach speakers GPS or the like Please contact us and we will be happy to help you get the wind-vest that will work best for your motorcycle.
For custom or modified motorcycles use our Custom Bikes Page to tell us about your accessories and send us to photos of your motorcycle (front view and side view and be sure to tell us your handlebar thickness (1", 1 1/4" or 1 1/2") sorry we do not have 7/8" mounts but some rides have made shims to mount 1" clamps to 7/8" handlebars.