WindVest for Triumph, Indian, Victory and Production Choppers.
When you are looking for latest in motorcycle windshield technology for your unique motorcycle.
WindVest is different from the other windscreens you will find for these less popular manufactures. It has a unique design with a wind combination that deflects the wind blast from your face and chest area and makes your ride more comfortable and less tiring. WindVest is the perfect choice for your custom production chopper as well. Show quality finish and hardware allows you to add style and comfort without compromize.
Select Your Make of Motorcycle to see available windshields.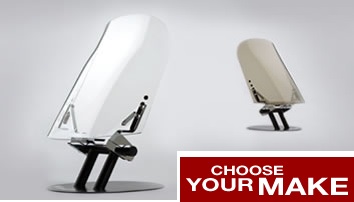 WindVest the best performance windscreens in the world.
WindVest makes a large selection of windshields to fit most custom manufacturers.
10 Inch Wind Vest Windshield Available
Big Dog, (Pitbull Bull Dog Mastiff) Titan, (Phoenix Gecko) American Iron Horse, Boss Hoss, Ridley, American Eagle, Pure Steel, Bourget, Texas Chopper
Please contact us and we will gladly help you find the WindVest to fit your custom application.
Color windshields add style to your motorcycle!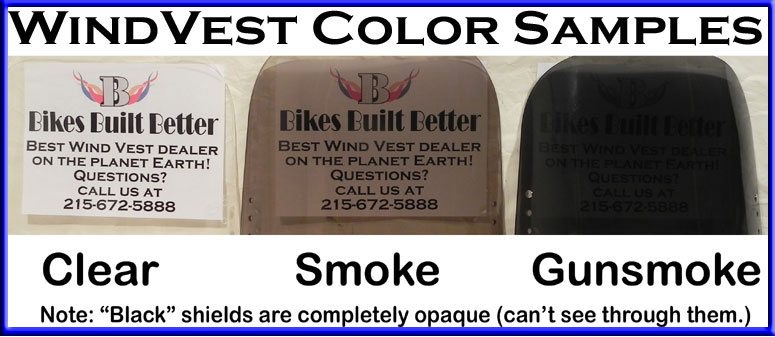 Color selection is a matter of personal taste. If you want the shield to practically disappear, go with clear. Many people like the way their WindVest looks so they choose Smoke or Gunsmoke to complement the color of their motorcycle.
Hardware Options available on many WindVest models Chrome or Satin Black.
All color options for your model motorcycle and size selected will be shown in "Select Options".
A WindVest windshield will provide the same protection as a "regular" motorcycle windshield that's several inches taller.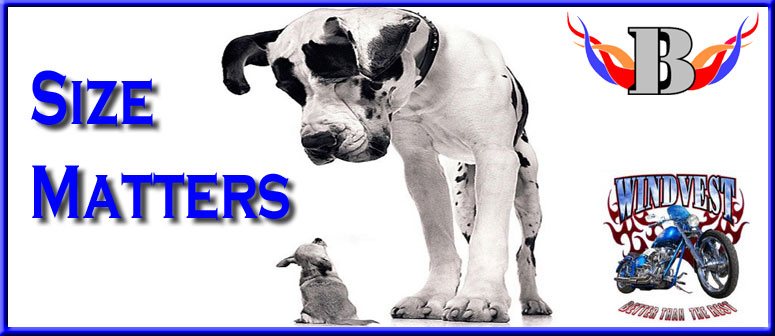 Our Wind Vest windshields for cruiser type motorcycles are available from 10" to 18" tall. Our most popular sizes are the 14"tall X 14"wide and the 16" tall X 14" wide. WindVest's revolutionary extra thick 5mm hand-molded acrylic windscreen design with flat front surface, 2" side contours and recurved top edge creates a low pressure zone diverting the wind away from the rider's chest and head. A WindVest windshield will provide the same protection as a "regular" motorcycle windshield that's several inches taller.
For cruiser style models (i.e. Dyna, Softail, Suzuki, Honda etc.)...if you are 6' tall or over you would probably want the 16" tall Wind Vest unless you sit extremely low in the saddle.
For all touring models (i.e. Bagger Electra Glide, Road Glide, Cross Country, Vaquero etc.) see our size recommendation charts as well as measuring instructions.
All Size Options for your make and model motorcycle will be shown in "Select Options".
Select Your Make and Model Motorcycle For Wind Vest Styles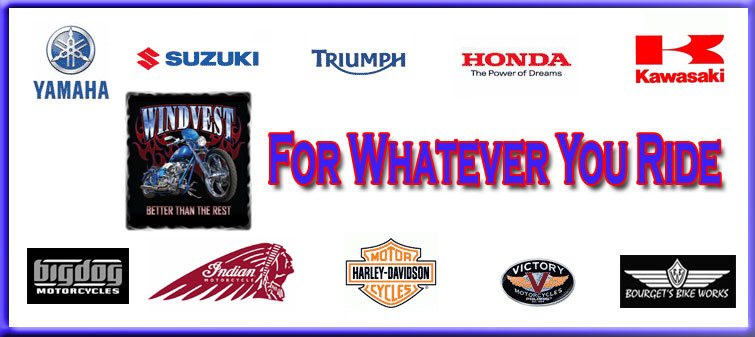 Navigate to your make and model motorcycle. Be sure to look through all the options in your category as similar model motorcycles will use different Wind-Vest mounts. (i.e. Harley Davidson Softail Deuce uses a different windshield mount than the Harley Davidson Screaming Eagle Deuce, Honda Shadow Ace and Honda Shadow Spirit are different.)
All Wind Vests listed on this site for instant checkout are for stock motorcycles. If you have custom handlebars or risers have added accessories such as Tach speakers GPS or the like Please contact us and we will be happy to help you get the wind-vest that will work best for your motorcycle.
For custom or modified motorcycles use our Custom Bikes Page to tell us about your accessories and send us to photos of your motorcycle (front view and side view and be sure to tell us your handlebar thickness (1", 1 1/4" or 1 1/2") sorry we do not have 7/8" mounts but some rides have made shims to mount 1" clamps to 7/8" handlebars.