WindVest Frequently Asked Questions
How can I Pay for my Wind-Vest?
Preffered payment method for on-line orders is PayPal. Bikes Built Better does not store or process credit cards online but you can use your credit or debit card by calling us.
Why Choose PayPal?
PayPal is a service that enables you to pay, and send money securely. When you sign up for a PayPal account, you have the flexibility to use your debit, credit card, or bank account to your account or funds can be added from a MoneyPak
PayPal keeps your financial information securely encrypted and doesn't share it with merchants. PayPal will also store your billing and shipping information so you don't have to enter it every time - making checkout fast.
Which is better, clear, smoke or gun smoke?
It is a cosmetic choice since the WindVest was not made to look through. Those with dark color bikes often choose smoke or gun smoke. To make the WindVest as discreet as possible choose clear.
How does the WindVest hold up in weather?
Acrylic (plexiglas) vs Lexan
WindVests are made of a thick acrylic plastic. Certain manufacturers like to slam acrylic in order to sell their more expensive Lexan shields, but after hundreds of thousands of miles with both types of windshields, we can say with authority that both materials have their strong points, and their drawbacks. Scratches: Lexan is harder to scratch than acrylic, but once it is scratched Lexan cannot be repaired. You can, however, remove some major gouges from acrylic by polishing. Impact resistance: I have been behind an acrylic shield when it took a direct hit from a rock several inches in diameter. The plastic cracked in a small "star" pattern but the cracks did not spread and the rock never touched me. On the other hand you do need to be careful handling an acrylic shield because if you drop them just wrong they can break. (I can't tell you what "just wrong" is as it usually happens so fast.) Just be careful when installing and removing your WindVest as that's when you are the most likely to drop it. Lexan is harder to break if you drop it, but again once it's scratched it's forever.
Chemical resistance: We shouldn't even be talking about this. If you use anything for cleaning and polishing that does not specify that it's safe for plastic, you will probably damage either kind of plastic. Windex, Rainex and a host of other products that are used on glass windhields will destroy Lexan or acrylic shields.
Weather resistance: Both acrylic and Lexan hold up extremely well to anything Mother Nature can throw at them.
Which height Wind Vest should I buy?
Number One Rule: you do NOT want to be looking THROUGH the windshield. Wind Vests are not designed to look through. The top recurved lip will distort the view of the road ahead. We will not consider "waviness" of the road seen through a Wind Vest to be a defect.
The best rule to follow: when the Wind Vest is installed and you are in your normal riding position, the top edge of the Wind Vest should be about level with your mouth or the tip of your nose. Note: the top of a 14" handlebar-mounted Wind Vest will be about 12" above the handlebar clamp. A 16" Wind Vest will be about 14" above the handlebar clamp. Since everybody has different seats, handlebars, foot pegs and riding positions, the perfect height can only be determined by the customer. For bagger (fairing-equipped) models, the same rules apply. Wind Vest has provided us with a sizing guide, but actual measurements taken on your bike would be the best guide. NOTE: Wind Vests have excellent optical characteristics, but they are not designed to look through. We will not consider "waviness" of the road seen through a Wind Vest to be a defect.
How can I order?
You may select from our most popular sizes by motorcycle make and model from this site using PayPal or call for credit card orders. If you do not see your model bike on this site or if you have custom handlebars or risers use our Custom Bikes Page or call 215-672-5888 Monday thru Friday 9am to 6pm EST and one of our sales associates will be happy to assist you.
How do I clean my WindVest?
We recommend the Novus Products for cleaning and for removal of scratches. These can be purchased through Bikes Built Better. Use only products that specify that they are safe for plastic. Use only soft cotton or microfiber cloths, not paper towels, for cleaning. Do Not Use any alcohol based products like Windex or Rain-X.
Note: to remove stuck-on bugs, soak a 100% cotton towel in water. Drape it over the shield and let it sit for a little while. The water will soften the bugs and you can then wipe them off.
Do you fit larger diameter handlebars?
We fit 1 1/4" and 1 1/2" handlebar or riser mount configurations in addition to the standard 1" WindVest clamp size.
Does the smoke or gun smoke WindVest impair vision at night?
The smoke has a 5 grade tint so the lines in the road are visible at night. Gun smoke is darker and would make viewing through the shield difficult. Wind Vest is designed to be look over not through.
Will the WindVest accommodate a tachometer and/or speedometer?
Some WindVest models are built to wrap around a gauge on the handlebar. Check your make and model applications or use our Custom Bikes Page.
Is the WindVest detachable?
The WindVest is not quick disconnect but is easily removed by unscrewing 2 Allen bolts. The wrench to remove them is included with the WindVest Kit.
Do I have to purchase additional docking hardware?
The WindVest Kit is complete. Included with the kit are the wrench, instructions and care and maintenance information.
How do I take care of my WindVest?
Treat your WindVest like paint or chrome. Use non-abrasive cleaners or waxes.
How resistant is the WindVest to an impact?
In lab testing a 7oz steel dart was dropped from 18 feet above. The dart may crack the glass and may puncture, but not a large enough hole for entry of the dart's body. None of the testing resulted in large piece breakage. A small area was affected to expose less than one square inch of surface.
Color windshields add style to your motorcycle!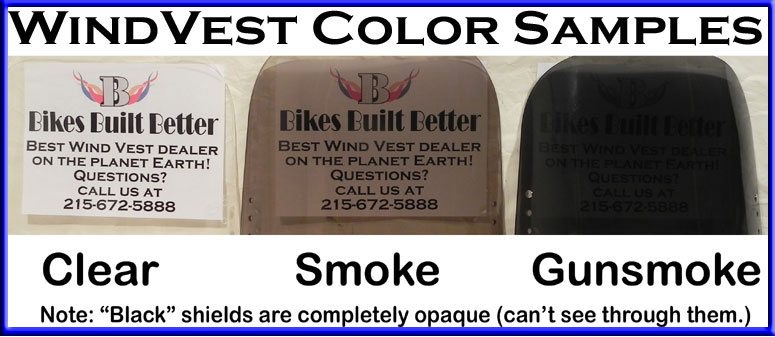 Color selection is a matter of personal taste. If you want the shield to practically disappear, go with clear. Many people like the way their WindVest looks so they choose Smoke or Gunsmoke to complement the color of their motorcycle.
Hardware Options available on many WindVest models Chrome or Satin Black.
All color options for your model motorcycle and size selected will be shown in "Select Options".
A WindVest windshield will provide the same protection as a "regular" motorcycle windshield that's several inches taller.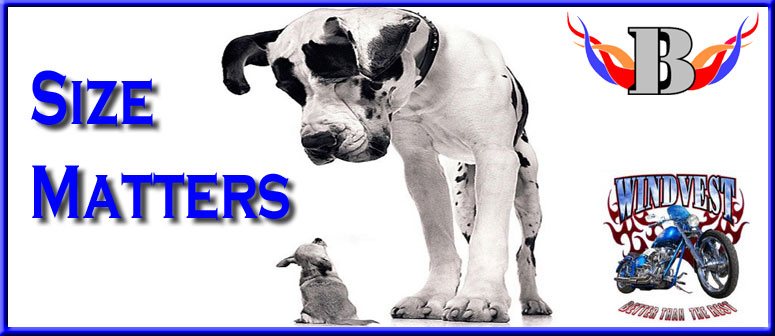 Our Wind Vest windshields for cruiser type motorcycles are available from 10" to 18" tall. Our most popular sizes are the 14"tall X 14"wide and the 16" tall X 14" wide. WindVest's revolutionary extra thick 5mm hand-molded acrylic windscreen design with flat front surface, 2" side contours and recurved top edge creates a low pressure zone diverting the wind away from the rider's chest and head. A WindVest windshield will provide the same protection as a "regular" motorcycle windshield that's several inches taller.
For cruiser style models (i.e. Dyna, Softail, Suzuki, Honda etc.)...if you are 6' tall or over you would probably want the 16" tall Wind Vest unless you sit extremely low in the saddle.
For all touring models (i.e. Bagger Electra Glide, Road Glide, Cross Country, Vaquero etc.) see our size recommendation charts as well as measuring instructions.
All Size Options for your make and model motorcycle will be shown in "Select Options".
Select Your Make and Model Motorcycle For Wind Vest Styles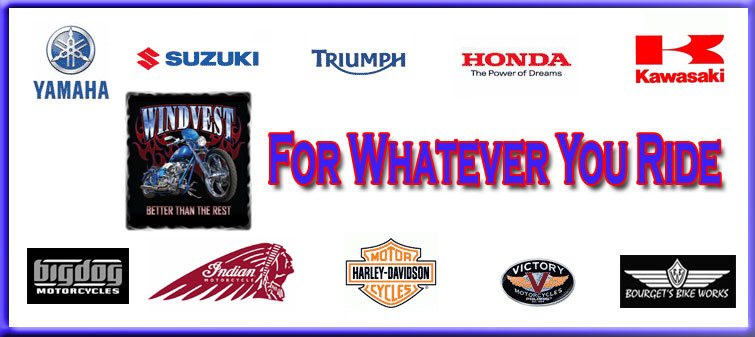 Navigate to your make and model motorcycle. Be sure to look through all the options in your category as similar model motorcycles will use different Wind-Vest mounts. (i.e. Harley Davidson Softail Deuce uses a different windshield mount than the Harley Davidson Screaming Eagle Deuce, Honda Shadow Ace and Honda Shadow Spirit are different.)
All Wind Vests listed on this site for instant checkout are for stock motorcycles. If you have custom handlebars or risers have added accessories such as Tach speakers GPS or the like Please contact us and we will be happy to help you get the wind-vest that will work best for your motorcycle.
For custom or modified motorcycles use our Custom Bikes Page to tell us about your accessories and send us to photos of your motorcycle (front view and side view and be sure to tell us your handlebar thickness (1", 1 1/4" or 1 1/2") sorry we do not have 7/8" mounts but some rides have made shims to mount 1" clamps to 7/8" handlebars.