Disclaimer
Harley Davidson | Metric Motorcycles | Liability
DISCLAIMER HARLEY: All products in this catalog are intended and sold for aftermarket use only. Our part numbers and corresponding printed matter are not intended to imply that any of these parts are Harley-Davidson® original equipment or endorsed by Harley-Davidson® Inc. The words, Dyna Glide ®, Electra Glide ®, Evolution ®, Fat Boy ®, HD ®, H-D ®, Harley ®, Harley-Davidson ® Heritage ® Softail ®, Heritage ® Springer ®, Hugger ®, Low Rider, Night Train ®, Road Glide ®, Road King ®, Roadster ®, Softail ®, Softail ® Deuce, Sport Glide ®, Sportster ®, Springer ®, Sturgis ®, Super Glide ®, Tour-Pak, Tour Glide ®, Ultra Classic and Wide Glide ® are registered trademarks of Harley-Davidson ®, Inc., Milwaukee, Wisconsin, U.S.A. The words, Bad Boy ®, Convertible, Duo Glide ®, Hydra Glide ®,V-Fire III and VROD are trademarks of Harley-Davidson ®, Inc., Milwaukee, Wisconsin, U.S.A. The following model designations for Harley-Davidson ® motorcycles are used in this catalog for reference only: EL, FL, FLH, FLHR, FLHRCI, FLHS, FLHT, FLHTC, FLHTC Ultra Classic, FLHTC-I, FLHTCUI, FLHX, FLST, FLSTC, FLSTF, FLSTN, FLSTS, FLSTSC/I, FLT, FLTC, FLTC Ultra Classic, FLTCU, FLTR, FLTRI, FLTRSEI, FX, FXB, FXD, FXDB, FXDC, FXDG, FXDL, FXDS-CON, FXDWG, FXDX, FXDXT, FXE, FXEF, FXLR, FXR, FXRC, FXRD, FXRDG, FXRP, FXRS, FXRS-CON, FXRSE, FXRS-SP, FXRT, FXS, FXSB, FXST, FXSTB, FXSTC, FXSTD, FXSTD-I, FXSTS, FXSTSB, FXWG, GE, K, KH, VRODâ"¢, VRSCA, VRSCB, WL, WLA, XL, XL1100, XL1200, XL1200C, XL1200R, XL1200S, XL883, XL883C, XL883R, XLCH, XLCR, XLH, XLH1100, XLH1200, XLH1200, XLH1200S, XLH883, XLR, XLS, XLS, XLT, XLX, XLX, XR1000 and their connection to Harley-Davidson ® factory part numbers, as well as any printed matter, are not intended to imply that any of these parts are Harley-Davidson ® original equipment. Although the quality of most of the items listed here equals or exceeds OEM specifications, none of these items are manufactured by Harley-Davidson ® Motor Company. All parts listed in this catalog are from independent aftermarket sources. Even though these products have brand names inserted, they are intended for brand identification only. They are aftermarket products and are not necessarily endorsed or recommended by any motorcycle manufacturer. None of the parts illustrated were manufactured by the original equipment manufacturer or under their supervision or control. All other brand names or trademarks or registered trademarks used in this catalog are the property of their respective holders.
Disclaimer Metric: All products in these catalogs are intended and sold for aftermarket use only. Our part numbers and corresponding printed matter are not intended to imply that any of these parts are by there OEM producers. The following model designations for motorcycles used on this website are for reference to fitment only:

Honda TRX905 SPORTRAX TRX250EX5 SPORTRAX TRX250TE5 FT RECON ES TRX250TM5 FT RECON - 229cc TRX300EX5 SPORTRAX TRX350FE5 FT RNCHR 4X4 ES TRX350FM5 FT RANCHER 4X4 TRX350TE5 FT RANCHER ES TRX350TM5 FT RANCHER TRX400EX5 SPORTRAX TRX400FA5 FT RNCHR AT TRX400FGA5 FT RNCHR AT TRX450R5 TRX500FE5 FOREMAN 4X4 ES TRX500FM5 FT FOREMAN 4X4 TRX500TM5 FT FOREMAN TRX500FA5 FRMN RUBICON TRX500FGA5 FRMN RUBICON TRX650FA5 FT RINCON TRX650FGA5 FT RINCON GPS CRF50F5 CRF70F5 CRF80F5 CRF100F5 CRF150F5 CRF230F5 XR650R5 CR85R5 CR85RB5 EXPERT CR125R5 CR250R5 CRF250R5 CRF250X5 CRF450R5 CRF450X5 Road/Street CB2505 NIGHTHAWK CMX250C5 REBEL VT600C5 SHADOW VELOREX VT600CD5 SHADOW VLX DLX CBR600F4i CBR600RR5 VT750C5 SHADOW AERO VT750CA5 SHADOW SPIRIT VFR8005 INTERCEPTOR VFR800A5 INTERCEPTOR ABS CB900F5 919 VTR1000F5 SUPER HAWK CBR1000RR5 CBR1000RR5 CBR REPSOL EDITION RVT1000R5 RC51 VT1100C15 SHADOW SPIRIT VT1100C25 SHADOW SABRE ST13005 ST1300A5 ABS VTX1300C5 VTX1300R5 VTX1300S5 VTX18C15-TYPE C VTX18C25-TYPE C VTX18C35-TYPE C VTX18F15-TYPE F VTX18F25-TYPE F VTX18F35-TYPE F VTX18N15-TYPE N VTX18N25-TYPE N VTX18N35-TYPE N VTX18R15-TYPE R VTX18R25-TYPE R VTX18R35-TYPE R VTX18S15-TYPE SVTX18S25-TYPE S VTX18S35-TYPE S GL1800 GOLDWING GL1800A5 GOLDWING ABS XR650L5 CHF505 METROPOLITAN CHF50P5 METROPOLITAN II NPS505 RUCKUS CH805 ELITE CN2505 HELIX NSS2505 REFLEX NSS250A5 REFLEX ABS NSS250AS5 REFLEX SPORT NSS250S5 REFLEX SPORT PS2505 BIG RUCKUS FSC6005 SILVER WING FSC600A5 SILVER WING

Kawasaki KSF50A6F KFX 50 KSF80A6F KFX 80 KLF250A6F BAYOU KVF360A6F PRAIRIE 4X4 KVF360B6F PRAIRIE KVF360C6F PRAIRIE 4X4 KSF400A6F KFX 400 KVF650D6F BRUTE FORCE 4X4 KVF650E6F BRUTEFORCE 4X4 KVF650F6F BRUTEFORCE 4X4 KVF650G6F BRUTEFORCE4X4 KSV700A6F KFX 700 KVF700A6F PRAIRIE 4X4 KKVF700D6F PRAIRIE 4X4 SE KVF750A6F BRUTEFORCE 4X4 KVF750C6F BRUTEFORCE4X4 Enduro KDX50A6F KLX110A6F KLX125A6F DX200H6F KLX300A6F R KX65A6F KX85A6F KX100D6F KX250R6F KX250T6F KX450D6F BN125A6F ELIMINATOR EX250F6F NINJA 250R EN500C6F VULCAN 500 LTD EX500D6F NINJA 500R ZX600J6F ZZR600 ZX600N6F NINJA ZX-6RR ZX636C6F NINJA ZX-6R EX650A6F NINJA 650R ZR750K6F Z750S VN750A6F VULCAN 750 VN800E6F VULCAN DRIFTER VN900B6F VULCAN CLASSIC VN900D6F VULCAN CLSC LT ZR1000A6F Z1000 ZG1000A6F CONCOURS ZX1000D6F NINJA ZX-10R ZX1400A6F NINJA ZX-14 VN1500N6F VULCAN CLASSIC VN1600A6F VULCAN CLASSIC VN1600B6F VLCN MEAN STREAK VN1600D6F VULCAN NOMAD VN2000A6F VULCAN 2000 VN2000D6F VULCAN 2000 LTD VN2000E6F VULCAN CLASSIC VN2000F6F VULCAN CLSC LT KLX250H6F KLX 250S KL650A6F KLR 650

Suzuki LT-Z50K6 LT-80K6 LT-F250K6 OZARK LT-Z250K6 LT-A400FCK6 EIGER 4X4 ADV LT-A400FK6 EIGER 4X4 LT-A400FZK6 LT-A400K6 EIGER LT-F400FCK6 EIGER ADVNTG LT-F400FK6 EIGER 4X4 LT-Z400K6 LT-R450K6 QUADRACER LT-A500FCK6 VINSON ADVNTG LT-A500FK6 VINSON LT-F500FCK6 VINSON ADVNTG LT-F500FK6 VINSON LT-A700XCK6 KING QUAD CAM LT-A700XK6 KING QUAD JR50K6 DR-Z125K6 DR-Z125LK6 DR-Z250K6 DR-Z400EK6 RM85K6 RM85LK6 RM125K6 RM-Z250K6 RM250K6 RICKY CARMICHAEL RM250ZK6 RM-Z450K6 GZ250K6 GS500FK6 GSX-R600K6 GSX600FK6 KATANA DR650SEK6 DL650K6 V-STROM SV650K6 SV650SK6 S40K6 BOULEVARD GSX-R750K6 GSX750FK6 KATANA C50BK6 BOULEVARD BLACK C50CK6 C50K6 BOULEVARD 2-TONE C50TK6 BOULEVARD M50BK6 BOULEVARD BLACK M50K6 BOULEVARD S50K6 BOULEVARD INTRUDER VOLUSA DL1000K6 V-STROM SV1000SK6 GSX-R1000K6 GSX-R GSXR GSX-R1300RK6 GSX1300RZK6 HAYABUSA LTD S83K6 BOULEVARD C90BK6 BOULEVARD C90K6 BOULEVARD C90TK6 BOULEVARD VZR1800K6 DR200SEK6 DR-Z400SK6 DR-Z400SMK6

Yamaha YFM50RV RAPTOR YFM80GHV GRIZZLY YFM80GV GRIZZLY YFM80RV RAPTOR YFM HV GRIZZLY YFM GV GRIZZLY YFS200SEV BLASTER SE YFS V BLASTER YFM25BV BRUIN YFZ350SEV BANSHEE SE YFZ350V BANSHEE YFM350RSEV RAPTOR SE YFM350RV RAPTOR YFM35BAV BRUIN YFM35FAHV BRUIN 4WD YFM35FAV BRUIN 4WD YFM35X WOLVERINE YFM40FV BIG BEAR YFM4FAHV KODIAK YFM4FAV KODIAK YFM45FABGHV KODIAK YFM45FAHV KODIAK 4WD YFM45FAV KODIAK 4WD YFM45FXV WOLVERINE YXR45FAVGR RHINO YFZ450BBV BILL BALLANCE YFZ450V YFM66FABGHV GRIZZLY YFM66FAHDV GRIZZLY DUCKS YFM66FAHV GRIZZLY YFM66FASEV GRIZZLY 4WD SE YFM66FAV GRIZZLY YXR66FAEXGV RHINO EXPLORE YXR66FAEXHV RHINO EXP YXR66FAHV RHINO 4WD YXR66FASEV RHINO SE YXR66FAVGR RHINO YFM700RV RAPTOR Dirt YZ450FSPV WR250FV WR450FV TT-R50EV ELECTRIC START TT-R90EV ELECTRIC START TT-R125EV TT-R125LEV ELECTRIC START TT-R125LV Mini Moto Cross PW50V PW80V YZ85V - 85cc YZ125V YZ250FSPV ANNV YZ250FV YZ250V YZ450FV Road/Street XV250V/C VIRAGO YZF600RV/C YZF600R FZ6 YZF-R6 YZF-R6S XVS65ATV/C V-STAR SILVERADO XVS65AV/C V-STAR CLASSIC XVS65V/C V-STAR CUSTOM XVS65V/C V-STAR MIDNIGHT CUSTOM FZ1 YZF-R1 YZF-R1 YZF-R1 LE XVS11ATV/C V-STAR XVS11AWV/C VSTAR CLASSIC XVS11V/C V-STAR CUSTOM XVS11V/C V-STAR VMX12V/C V-MAX XVZ13CTMV/C RS MDN TR DLX XVZ13CTV/C ROYAL STAR TR DLX XVZ13TFMV/C VENTURE XVZ13TFV/C FJR1300A V17AMV/C RS MIDNIGHT XV17ATMV/C RS XV17ATV/C RS SILVERADO XV17AV/C ROAD STAR SPOKE V/C ROAD STAR CAST XV17PCMV/C RSMDNT WARRIOR XV17PCV/C RS WARRIOR XV19CTMV/C STRATOLINER MD XV19CTSV/C STRATOLINER S XV19CTV/C STRATOLINER XV19MV/C ROADLINER MDNTXV19SV/C ROADLINE S XV19SV/C ROADLINER S XV19V/C ROADLINER
Liability: Any modifications made to motorcycles can and will affect handling, acceleration, braking, cornering, clearance, sound, feel of vehicle. Bikes Built Better accepts no responsibility of injury death or property damage associated with modifications to vehicles by us or by consumers using parts or advise supplied by us. Some modifications can and will adversely affect all manner in which the machine will handle and react.

Color windshields add style to your motorcycle!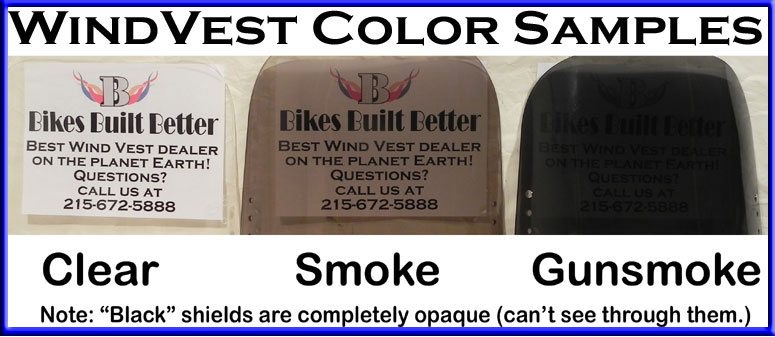 Color selection is a matter of personal taste. If you want the shield to practically disappear, go with clear. Many people like the way their WindVest looks so they choose Smoke or Gunsmoke to complement the color of their motorcycle.
Hardware Options available on many WindVest models Chrome or Satin Black.
All color options for your model motorcycle and size selected will be shown in "Select Options".
A WindVest windshield will provide the same protection as a "regular" motorcycle windshield that's several inches taller.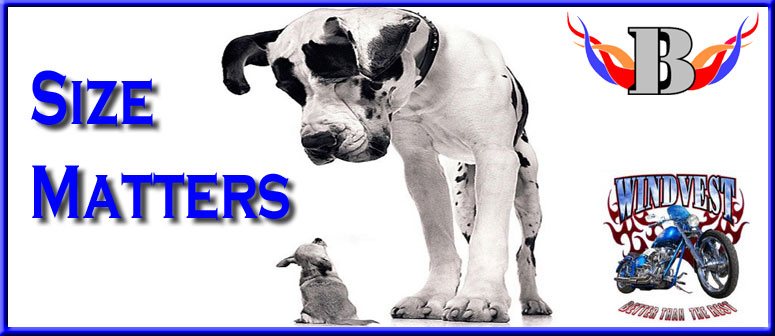 Our Wind Vest windshields for cruiser type motorcycles are available from 10" to 18" tall. Our most popular sizes are the 14"tall X 14"wide and the 16" tall X 14" wide. WindVest's revolutionary extra thick 5mm hand-molded acrylic windscreen design with flat front surface, 2" side contours and recurved top edge creates a low pressure zone diverting the wind away from the rider's chest and head. A WindVest windshield will provide the same protection as a "regular" motorcycle windshield that's several inches taller.
For cruiser style models (i.e. Dyna, Softail, Suzuki, Honda etc.)...if you are 6' tall or over you would probably want the 16" tall Wind Vest unless you sit extremely low in the saddle.
For all touring models (i.e. Bagger Electra Glide, Road Glide, Cross Country, Vaquero etc.) see our size recommendation charts as well as measuring instructions.
All Size Options for your make and model motorcycle will be shown in "Select Options".
Select Your Make and Model Motorcycle For Wind Vest Styles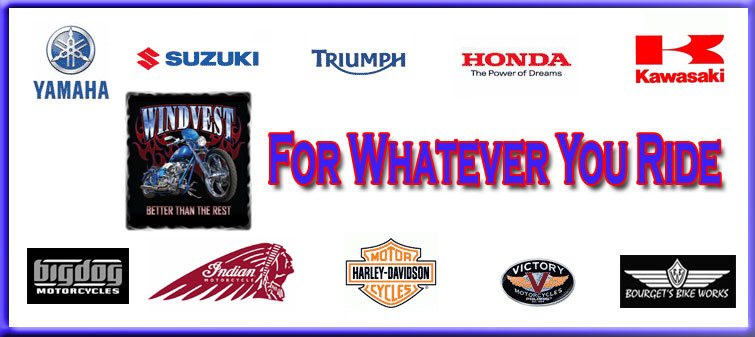 Navigate to your make and model motorcycle. Be sure to look through all the options in your category as similar model motorcycles will use different Wind-Vest mounts. (i.e. Harley Davidson Softail Deuce uses a different windshield mount than the Harley Davidson Screaming Eagle Deuce, Honda Shadow Ace and Honda Shadow Spirit are different.)
All Wind Vests listed on this site for instant checkout are for stock motorcycles. If you have custom handlebars or risers have added accessories such as Tach speakers GPS or the like Please contact us and we will be happy to help you get the wind-vest that will work best for your motorcycle.
For custom or modified motorcycles use our Custom Bikes Page to tell us about your accessories and send us to photos of your motorcycle (front view and side view and be sure to tell us your handlebar thickness (1", 1 1/4" or 1 1/2") sorry we do not have 7/8" mounts but some rides have made shims to mount 1" clamps to 7/8" handlebars.